Commercial Landscaping Baldwin Harbor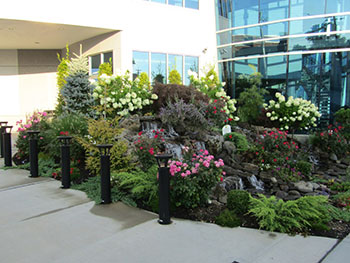 Like it or not, people do judge a book by its cover. This means the face of your Baldwin Harbor business is just as important as all the hard working employees inside of it. Do not let the neglected and unkempt exterior appearance of your business discourage people from giving your business a chance; call Paccione Landscaping today and we will completely transform your Baldwin Harbor commercial landscaping into something that you are proud to show off. From flower pot designs to hardscaping and masonry, the expert landscape designers and landscape artists at Paccione & Sons will work with you to ensure that the first impressions you give to your clients are favorable and memorable ones.
There are many ways in which the experts at Paccione Landscaping can help you revitalize the outward aesthetics of your Baldwin Harbor business. We have decades of experience in masonry, flowerpot designs, water features, and traditional landscaping. We will use all of our skills to ensure that whichever route we take, the end result will be something beautiful.

Baldwin Harbor Commercial Landscaping
When it comes to your business, you should never compromise on your public appearance. Your outdoor commercial space deserves the best landscaping team in Baldwin Harbor, and when you call Paccione and Sons, that is exactly what you will get. Our experts will satisfy any landscaping request, and will not rest until your business landscaping equals the amazing work you and your team provides. It is imperative that the face of your business sends a strong statement that the people and services inside are detail oriented and professional. The landscapers at Paccione and Sons embody those characteristics and we ensure it shows through our work for you.
Call Paccione and Sons today to learn about how we can help with your Baldwin Harbor commercial landscaping needs. We will sit down with you and discuss all the different ways we can help you have your business looking as good as it possibly can!
View some of our Baldwin Harbor Commercial Landscaping & Residential work